Blue Wave Stable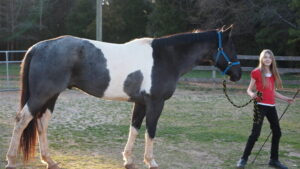 Cool Blue Wave and Shea
Welcome to the Blue Wave Stable Website. Our website was recently hacked and we are having to rebuild it. I decided it would be better to put up an incomplete website until we can get the new one completed. Please forgive our site while it is under construction. Pictures and more detail will be added soon. Thank you for your patience.
First, I want to thank everyone at Blue Wave Stable (BWS). The atmosphere is one that is positive, fun and all about horses. The young ladies that help at the barn are absolutely wonderful and help make BWS the wonderful place that it is. Should you want to stop-by and get to know us, please text 704-847-3424 to schedule an appointment.
Blue Wave Stable got it's name from my daughter's horse, Cool Blue Wave pictured above. Cool is an incredibly sweet, beautiful, smart minded, Blue Roan Paint. We started Blue Wave Stable 2009 and the dream of having a family run stable became an achievable opportunity.
In my minds eye I wanted to create a barn where my daughter could have a safe place to spend time with her horse and create a healthy atmosphere that included teaching other children how to ride and care for horses. At Blue Wave Stable our focus is on what I call "ride to own". We are not a competitive show barn. We teach all that is needed to ride, care and ultimately, if possible, be able to responsibly own and care for their own horse.
We teach English Pleasure riding skills, horse health care, maintenance and ownership skills. My goal is to teach all students not only how to ride and care for horses but also the hands on experience should they eventually lease or buy a horse. Horses well cared for can live 30 years. At Blue Wave Stable, I share the love and care of my horses with all my students, members and anyone want to trail ride on Saturdays. "The more love they get the more love they give the more love they get…..an so on."
At Blue Wave Stable we have a work to ride program that is designed to allow students to be able to earn an extra day of riding by helping with public trail rides on Saturdays. This program has since developed into a leadership program for young ladies. The goal is to teach girls how to lead and manage in a group setting. We have a golden rule;" Never speak poorly about the horses or about anyone else." The work to ride program also develops a social network for the girls to participate, where it is safe to work and play outside. I believe, all horses need a girl to love them and all girls need a horse to love. It makes for the best, drama free, warm and welcoming environment.
The girls that participate in our work to ride program are the most wonderful kids you will ever meet. They are caring, helpful, warm, work hard and love horses. It is a safe social environment for kids to come and work and play on Saturdays. It is truly a blessing to be able to work with these kids. They start off as little kids and end up responsible young ladies helping me run the place. Blue Wave Stable would not be what it is without the young ladies who have helped me to run it over the years. I am as proud of them as I am the horses we love. I cannot imagine a world without either one.
Blue Wave Stable is a very relaxed, friendly, low drama environment. We have 4 main service offerings;
English Pleasure Riding Lessons for kids and adults, Guided Horseback Trail rides, Birthday Parties, and Horse Boarding. Please click the tap at the top or bottom of the page for further information regarding in of those services.
Please Text 704-847-3424 for additional information or to schedule a reservation.